Early Mobility means Easier Integration!
The Turbo was the first commercially-produced wheelchair to be designed specifically for a child under two years old, and was developed by my husband, Dan, from a "one-off" built in 1981 for our daughter, Ruth. When, at the age of 17 months, Ruth was diagnosed as having an incurable neuromuscular condition, the paediatrician who had to give us the diagnosis and tell us the devastating news that she was never likely to walk, made an off-hand comment about her "needing wheels". He, like us, was concerned for her intellectual and social development, particularly as she showed every sign of being bright. If she can't move independently, we argued, she won't be able to explore and learn about her environment from interaction with the world around.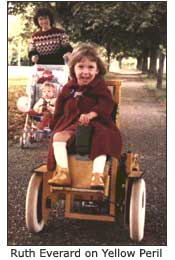 This was the beginning of a new career for us - a mission, if you like - as Dan immediately looked around for the wheelchair which our 17 month old daughter could use. It needed to be powered, as her muscular weakness is generalised. It needed to be simple enough and safe enough for a "toddler" to master. It needed to be agile and powerful to do the things a "toddler" wants, indoors and out. It didn't exist. This was enough for Dan, a design engineer by profession. Many parents of children with disabilities will identify with the crying need we both had to do something for the child we had fondly imagined until then would be able to do the things children do, and grow up normally to a healthy, active adult.
Dan was fortunate amongst us. Whilst my reaction, like so many mothers, was to throw myself headlong into physiotherapy routines, Dan and his engineering friends designed her a sort of forward-control fork-lift truck, soon known as the "yellow peril". By the time she was 20 months old, Ruth had the means of moving independently, in a positive, effective way. This transformed her behaviour, her educational prospects and her whole enjoyment of life.
Very soon it became obvious how different Ruth's life and experience was from similarly disabled pre-school children. If a child is stuck in a push-buggy or wheelchair, people react very differently to her than if a child (of the same age) is running around and getting in everyone's way! They pity her disability, instead of affirming her abilities. If a child is stuck, it is also very difficult for them to let off steam, to express their natural personality and test out their will against yours in "normal" ways.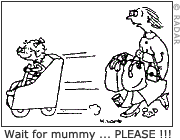 Ruth soon changed from a "good" passive observer, to a boisterous toddler, and began to develop a thoroughly positive self-image. When I approached the local state nursery school, I hardly had to argue for her integration at all. At the age of three she was quite able to integrate herself, with appropriate help, and demonstrated this clearly as she deftly manoeuvred into the headteacher's tiny office and told her so! Her education has never looked back from that moment, and she is now a year 13 student at Long Road VI Form College in Cambridge, doing 'A' level courses in History, English and Maths, having achieved A*, A and B grades in her nine GCSEs.
In Ruth's "toddler" days, seeing her dashing about in shopping centres and the local playground, many people had come up to us and asked where they could get a similar chair for a child they knew. So we realized it could not stop there, and the "Turbo" was born. The "Turbo" is a highly manoeuvrable indoor-outdoor vehicle with a custom-made seat which the child can raise from floor level to high-chair height. It is powerful, but its control computer can be programmed by exchanging simple plugs, so that it's performance can be tailored to the needs and abilities of each individual child or to the environment in which it is used. It is designed to avoid the "wheelchair" stereotype, with a coloured fibreglass body and a fun appearance. It can also be driven from a standing position, and combines the advantages of a high degree of mobility with the principles of good physical therapy.
Between 1984 and 1990, over 1,800 Turbos were delivered to children all over the world, and other manufacturers have taken up the challenge and improved the quality of wheelchairs for young children. Gradually, more and more therapy advisors have realized that you can combine good therapy and early powered mobility, with the correct equipment, and that the social, emotional and educational benefits of mobility are as important as the maximisation of physical strength and skills, so often made the be-all and end-all of therapy programmes in pre-school years and later.
Indeed, research in America has shown that children begin to suffer from what has been dubbed "learned helplessness" if they are unable to move independently at about 9 - 18 months of age, even if this is for temporary reasons. The mental urge to move happens for immobile children as much as for able-bodied children in these early months. Most normal children crawl or shuffle within a year, and are walking by 18 months, some much earlier. They then begin to learn about danger, about things they are allowed to touch, and things they may not, about "helping" Mummy and others and doing things for themselves. If they can't do these things at the proper age, their disability can cause a real handicap. Their motivation to do things for themselves is badly affected by interruption of the normal processes of learning at this critical stage, and considerable effort then has to be made later to unlearn the helplessness, once again holding them back from learning new skills appropriate to their age. And so it goes on, leading to greater difficulty in integrating with able-bodied people throughout life, especially if hospital treatment and other interruptions occur as well, to hold them back.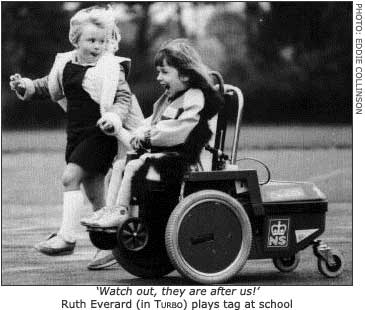 The Turbo has proved that it not just for bright, able children that early mobility is important, either. Children who have Turbos have a wide range of physical disabilities, and an equally wide range of intellectual abilities. Multiply-handicapped children, including those with learning difficulties, may not become dramatic examples of integration, like Ruth, but their families speak of the dramatic (in their terms) improvements in socialising, communicating, and fun in their lives too.
Sadly, commercial pressures on the original company caused the business to fail in 1990, and our family lost everything we had been working for, and more that we had invested to try to keep the company going. Dan lost the copyright to his own designs, when the business was bought up from the receiver. The latest version of the Turbo is still in production, but on a smaller scale and has moved from the Cambridge area. But for the next three and a half years, nothing was able to shake Dan from his determination to continue the work he started with the Turbo. Between 1991 and 1994, he designed the "Dragon", to incorporate various improvements into the original Turbo concept. We formed a new company, Pern Ltd, not only to develop the Dragon into a production model, but also to support and service older Turbos, not only to help support families who still use them, with seating and technical services, but also to refurbish unused Turbos and offer them to new owners. Sadly the financial backing we obtained in 1994 was not sufficient to get the Dragon into full production. Eight pre-production models were built and sold, and Dan still tries to support these, but Pern had to suspend trading in November 1995.
Despite this, we have to console ourselves that the range of powered mobility available to children and adults has advanced in leaps and bounds since we first encountered the world of disability in 1981. Funding for wheelchairs is still a problem, and our lack of commercial success is not unconnected with this! However, the best news for us is that more and more people now understand the original lesson which Ruth taught us, about getting children mobile early, and the education system in the UK is making it much easier now for severely disabled children to benefit from mainstream school and life.
Louise Everard, 1997
---
Since this article was published The Dragonmobility Project has begun, the Dragon has been developed into the Dragon MkII and has gained a smaller cousin called the SnapDragon which is better suited to very young users. Both of these models are now in production.
Created 28 January 2004 | updated: 28 September 2010